The U.S. Department of Homeland Security published a new rule on the 24th of July for the EB-5 Immigrant Investor Visa Program. The most impactful change for investors is the higher investment levels. The minimum investment amount for the EB-5 program will increase to $900,000 on November 21, 2019.
The newly published rule includes other changes to the EB-5 Program as well:
Raised investment requirements
Tightened standards for Targeted Employment Areas (TEA)
Priority Date Retention
Clarified removal of conditions on residence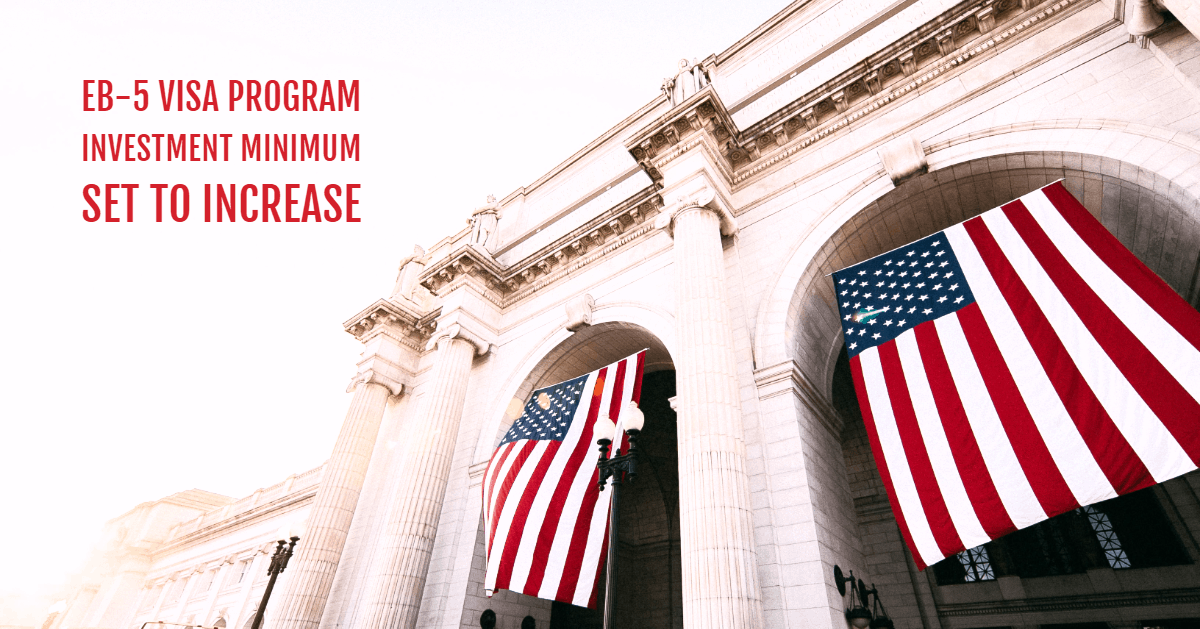 Raised Investment Requirements
Official wording of the new rule:
"The standard minimum investment amount increases to $1.8 million (from $1 million) to account for inflation."
"The minimum investment in a TEA increases to $900,000 (from $500,000) to account for inflation."
"Future adjustments will also be tied to inflation (per the Consumer Price Index for All Urban Consumers, or CPI-U) and occur every 5 years."
What does this mean for you, the investor?
Starting November 21, 2019, the minimum amount needed to invest in the EB-5 program will rise from $500,000 to $900,000 for TEA designated projects.  Applying now before the new rule goes into effect will save you $400,000!
Non-TEA project minimum investments will rise as well, from $1,000,000 to $1,800,000. These new minimums won't go into effect until November 21, 2019, so it's worth a lot of money to the investor to start your application as soon as possible.
The cost for the EB-5 program will only increase from this point forward. There is no benefit to waiting. The investment requirement will go up on November 21, 2019 and increase again every five years.
Tightened Standards for Targeted Employment Areas (TEA)
Official wording:
"We will now directly review and determine the designation of high-unemployment TEAs; we will no longer defer to TEA designations made by state and local governments."
"TEAs may now include cities and towns with a population of 20,000 or more outside of metropolitan statistical areas."
What does this mean?
TEA projects are popular with investors because the minimum investment is lower. Unfortunately, TEA project designation will be in the hands of the USCIS. This will make TEA projects rarer and more exclusive. Furthermore, TEA projects will move away from large cities into rural areas which decreases the likelihood of investor success.
Priority Date Retention
Official Wording:
"Certain immigrant investors will keep the priority date of a previously approved EB-5 petition when they file a new petition."
What does this mean?
This is a minor change to encourage current applicants to continue the EB-5 process. The applicant won't lose their place in the queue if they file a new petition.
Clarified Removal of Conditions on Residence
Official wording:
"Specifies when derivative family members (for example, a spouse and children whose immigration status comes from the status of a primary benefit petitioner) who are lawful permanent residents must independently file to remove conditions on their permanent residence;"
"Includes flexibility in interview locations; and"
"Updates the regulations to reflect the current process for issuing permanent resident cards (Green Cards)."
What does this mean?
This makes it easier for the investors family to remove any restrictions on their residence.
Summary
If you're thinking about joining the EB-5 program, there's no time to wait! Waiting will only cost you $500,000 more. However, if you apply before November 21, 2019, then you will qualify under the easier requirements before these rules go into effect.
Contact us to save $400,000 on your EB-5 investment.